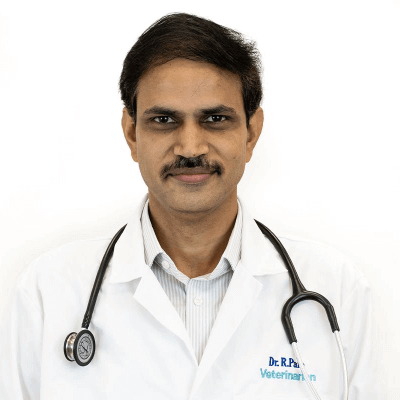 Dr. Radhakrishna Para
Chief Veterinarian
Raised in a farming community, Dr. Para developed a love for animals early in life and had a passion for science. so he always dreamed of becoming a veterinarian. He graduated from The College of Veterinary Science, Gannavaram, India in 2004.

As a new graduate, Dr. Para worked in India in a small and large animal practice for two years. Hoping to advance his career, he moved to the United States and pursued a Master's in Biology. After completing his higher education, Dr. Para pursued his desire to work in small animal practice at a hospital in Fayetteville, NC. There he helped pets and pet owners with preventive care, dental prophylaxis procedures and soft-tissue surgeries.

From there Dr. Para moved on to Cary, NC, and eventually made his way to Boynton Beach, FL in 2021, where he joined the staff at Congress Avenue Animal Hospital. He has a special interest in surgery, emergency care, and internal medicine.
When he's not working, Dr. Para enjoys travel, gardening and of course spending time with his family, which includes his wife, daughter, his dog Scooby and two cats Simba and Barney.